Rugged simplicity. If you want to keep the weight, cost, and fuss to a minimum check out the Flight Bags. Leather handles add reliability, a double layer of waxed canvas at the bottom resists abrasion, leather protects corners and adds class.
Add a leather embossed monogram to your luggage!
Four sizes in the Flight Bag line–the Mini is a little bigger than a bowling ball bag. The CarryOn makes a neat and trim weekend bag; it complies with airline requirements for onboard luggage. The Medium is slightly bigger but its compressible nature will allow you to get through most size checks. The Large Flight Bag really is large, it will stow a lot of gear.
All the Flight Bags include a web shoulder strap with solid brass hardware. The strap attachment points are leather reinforced and placed on opposing sides of the generous zip opening. The arrangement makes a balanced and shoulderable load.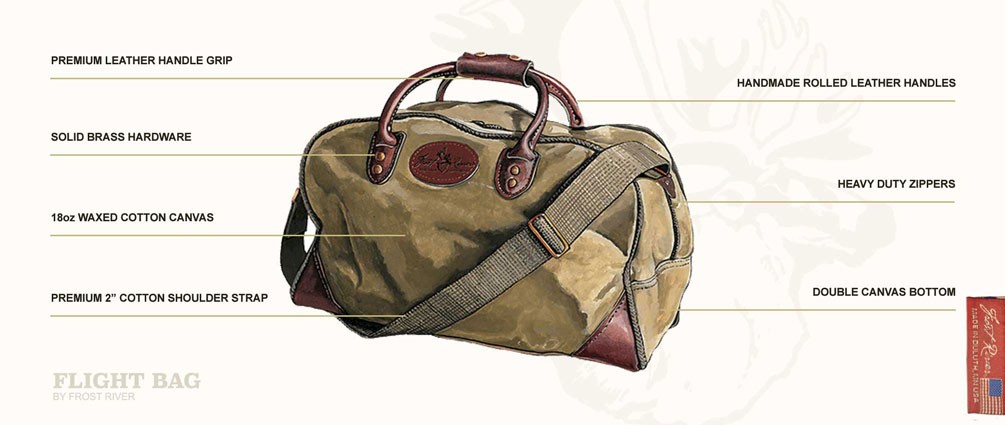 | | |
| --- | --- |
| SIZE | No.650 – Flight Bag Large, No.651 – Flight Bag Medium, No.652 – Flight Bag CarryOn, No.653 – Flight Bag Mini |
| SIZE / VOLUME | No.650 Lg. 18″h x 24″w x 10″d. 4320 c.i. (approx.), No.651 Med. 16″h x 22″w x10″d. 3520 c.i. (approx.), No.652 CarryOn. 14″h x 20″w x 10″d. 2800 c.i. (approx.), No.653 Mini. 12″h x 18″w x 10″d. 2160 c.i. (approx.) |
| WEIGHT | No.650 Lg: 3.6 lbs, No.651 Med: 3.5 lbs, No.652 CarryOn: 3.2 lbs, No.653 Mini: 3.0 lbs. (Approx.) |
| BASE | Double canvas. |
| HANDLES | HH Vintage Boomer Rolled Leather. |
| SHOULDER STRAP | 2″ Cotton web, adjustable slide, snap hooks. |
| MATERIALS | #10 Duck 18 oz. Cotton Waxed Canvas, HH Vintage Boomer Leather, Solid Brass Hardware, Chestnut Heavy Lace Leather |
| CLOSURE | #10 Heavy Duty Coil Zipper, 2 Zipper Pulls |
| REINFORCEMENTS | Attachment Points Riveted & Sewn, Chestnut Heavy Lace Leather, Waxed Canvas Double Bottom |