Looking for the Perfect Valentine's Day Gift?
Well, look no further! You've come to the right place! Valentine's Day is comming up fast (February 14th, 2022), and now is the ideal time to start shopping for the perfect gift. From the avid canoeist to the dog lovers alike, Frost River has a wide variety of items that are sure to impress that special someone. Follow along below to see some of our top products that would make outstanding Valentine's Day gifts!
For those who love to travel!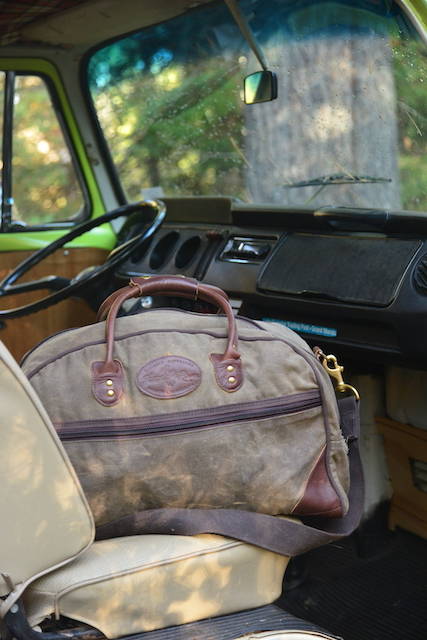 Waxed canvas luggage built for a lifetime of travels. The Curtis Flight Bag is simple yet refined with a large main compartment and outside access pockets that let you carry well and store a bit more easy access stuff. A great weekender or overnight bag, it will be the one to grab for quick get-up-&-go departures or your regular run to the gym. Fits in fine on the plane, the trunk or the train, a real go-bag! The Curtis Flight Bag makes flying with a carry on easier and handier than ever now that there's a spot to stash paperwork, maybe a tablet, and other slim equipment. Heritage Black adds an edge to its Field Tan counterpart. Durability, wearability and functionality remain the same no matter the color: The twin pockets at the back readily stow a folded newspaper or magazine. The zippered pocket in front provides security for documents and valuables you need to keep track of. There's a small slip pocket inside the front zip, that's perfect for a boarding pass and passport. Sized as a Carry-on, the Curtis is airline compliant to bring on board.
For Those Who Love Canoe Country!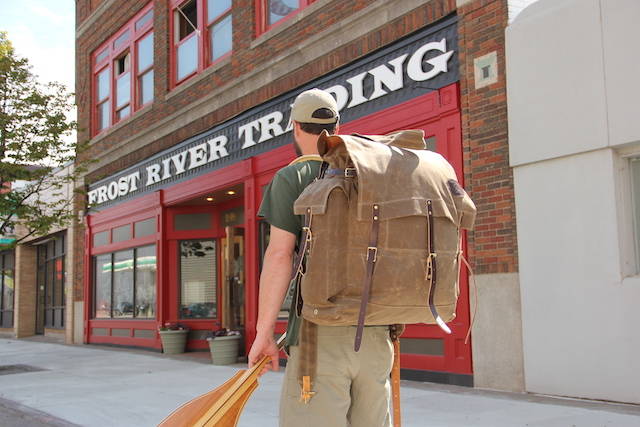 A big pack to haul big loads, the Timber Cruiser is an Old No. 7 with 2-in-1 side pockets. All the standard Frost River canoe pack features are there... Padded backstraps, 18oz. waxed cotton canvas, double bottom construction, solid brass hardware, and hand pounded harness rivets. Guaranteed reliability combined with side pockets equal one great canoe pack. Works great when paired with a pack basket but it is not standard equipment. 20" Ash Basket available separately.
For Those Who Love Their Furry BFF!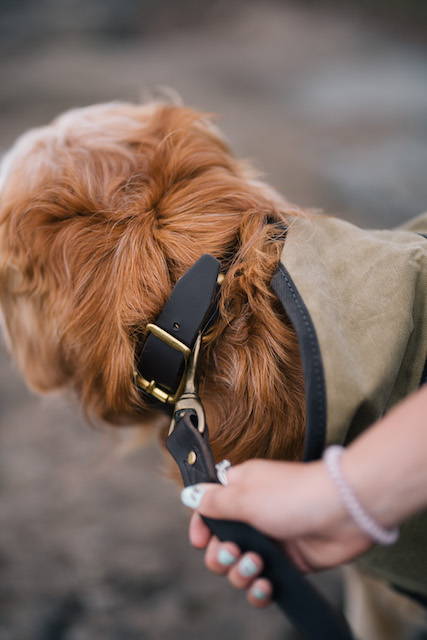 Our Dog Collars are cut from the same dark brown harness leather that we use for the backstraps on our canoe packs.... it's the good stuff. The hardware is solid brass, it will hold up for years and keep looking good the whole time, and won't absorb pet odors. Invest in quality for a best friend. Sizing: Use a flexible tape measure to measure your dog's neck. Small collar is 3/4" wide and fits necks from 9"-14". Medium collar is 1" wide and fits necks from 10"-17". Large collar is 1" wide and fits necks from 13"-20". Extra Large collar is 1" wide and fits necks from 16"-23". Measurements exclude the last hole of adjustment before the end of the collar.
For Those Who Love Organization!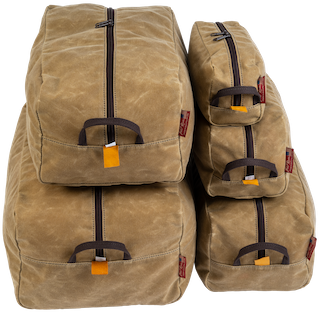 Sized Small, Medium, and Large to match the volume of gear and the bag it's fitting into. We make them from our 10.10 oz waxed canvas right here in Duluth, Minnesota. There's a grab handle on each end, a trusty nylon zipper, and buckskin leather grab tabs to provide years of dependable service. Make a move towards modularity.
For Those Who Love the Cold Chill of Their Favorite Beverage!
We're mixing Frost River and UllrTec together in our newest Cooler Pack, the Castle Danger Daypack. On the exterior you will find everything Frost River-- reliable waxed canvas, premium leather and solid brass hardware. Upon opening you'll find and Ullr-inspired interior-- water-wicking nylon lining and binding, as well as a removable padded insert to keep your cans and growlers from knocking together on the road less traveled.
For Those Who Love to Get Out and Go!
It's a short hike up to the High Falls of the Baptism River in Tettegouche State Park. The scenery is amazing, some of the best Minnesota has to offer! Good thing you brought a snack and some water so you can stay awhile.
The High Falls -Short Day pack is a perfect go-to on a quick hike. An inside sleeve works great for a water bladder, the hose can poke out the top (thanks to twin zipper pulls) and get clipped to the handy loops on the shoulder straps. Our waxed canvas is tough, quiet, and water resistant. The pack's shape fits a back great, you'll forget you're wearing it until you want what's inside. Made at Frost River in Duluth, Minnesota.
The High Falls is available in our traditional Field Tan, high visibility Hunter Orange, and our subtle and distinctive Heritage Black with antiqued hardware. All are made from the same core materials of hard-wearing waxed canvas, premium leather, sturdy cotton web and solid brass hardware.
For Those Who Love to Gather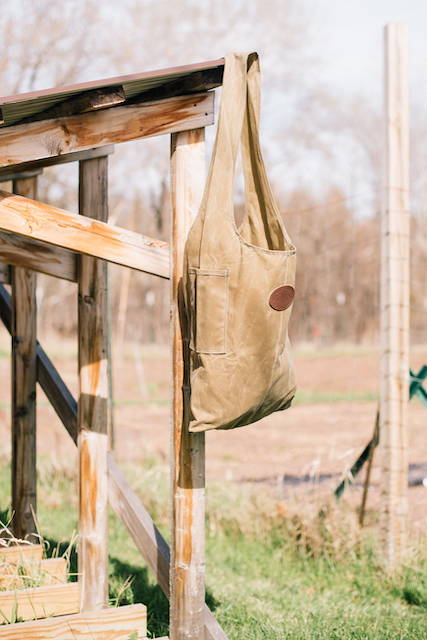 Here's a simple, lightweight, big 'ol floppy sling bag that'll work great to carry most anything. Versatile? It's like a bucket with a shoulder strap! It'll fold up/collapse down to an easy, portable size just like our Gooseberry Tote. Made from waxed canvas, it won't soak up water, mud, berry juice, ice, or snow … it'd make a great impromptu ice chest! This thing is most at home at the local farmer's market, co-op, grocery store or even at the beach but will also serve you well in the field. Here's a simple way to help carry a bunch of stuff. It's made at Frost River and built to last wherever and however you want to use it.