Here's a handcrafted bag, well equipped for most any intrepid adventure. The crossover design works great for an outdoor lifestyle that requires travel luggage, trips across town for meetings, as well as a backpack for hauling adventure gear out and back again.
Hard working French Voyageurs roamed the canoe country of the North American continent for years before America's westward expansion. "Voyageur" is the French word for traveler, and this bag is one very versatile traveler! Convertible between backpack, luggage, and briefcase, the stowable backstraps tuck out of the way for carrying with the sturdy web handles or optional web shoulder strap, yet they're ready in moment when you need your hands free. Just break out the contoured, padded backstraps and use the bag as a pack. A pair of D-rings are there to add a shoulder strap (not included, but available here) for even more options. The trio of possibilities creates a veritable "hat trick" of carry options!
Plenty of pockets inside and out offer compartments to keep your stuff where it belongs. The large zip pocket on the front sports an organizing panel inside for keeping travel documents, gadgets, and a newspaper or magazine ready in a flash. Inside, a full length padded zip sleeve offers a spot for a laptop. Our new XP Snap Grid is compatible with our XP Accessory Bags, providing storage for smaller objects in a pocket sized to your liking. The grid lets you add the optional Accessory Bags in backpack or briefcase orientation. The heavy duty full zipper hugs the back of the pack to allow easy access to the padded sleeve whether in pack or brief mode. The #10 zipper goes three quarters of the way around the bag allowing it to open almost flat so you can easily get to or pack your gear.
Waxed canvas construction keeps the weather out, sheds dirt, debris, and stains, and will last for years. We build them and guarantee 'em, in Duluth, Minnesota. Voyageur Backpacks come in two sizes, and both are carry on compliant for airline travel. The Backpack Brief is a little smaller, the Backpack Luggage, a little larger.
Available in Heritage Black as well as Field Tan, the Voyageur Brief lets you choose which environment to blend in with, and which you'd like to carry with you. In Heritage Black, it's professional, sleek and understated. Heritage Black features all the same high quality materials as Field Tan, leather from Red Wing, MN, waxed canvas and solid brass hardware. It's built right from the start in Duluth, MN in solid black and antiqued solid brass. Here's a pack you'll enjoy for decades to come.
Here's a hard working and stylish way to add more versatility to your load. A bag built to keep up with you and your equipment no matter if on the road, in the air, down the trail, or just rambling about. Intrepid Voyageurs know to keep as many options open as possible when out and about, our backpack luggage is ready to hold all sorts of stuff and let you carry it however you please. Happy Travels!
Want to read more about the Voyageur or see our other crossover luggage pieces? The experienced travelers at Expedition Portal found the Voyageur to be, "a fantastic travel companion." Click here to find out why the Voyaguer has become their new go-to. Or read up on our overview of the Voyaguer in this blog post.
Frost River Canvas My State Buckskin Patch Info Below.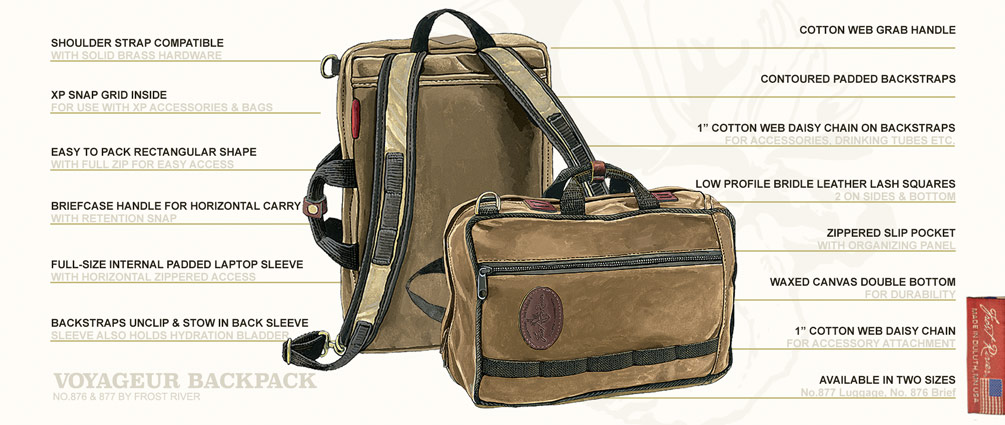 | | |
| --- | --- |
| STYLE | No.876- Voyageur Backpack Brief, No.877- Voyageur Backpack Luggage, No.876-N Voyageur Backpack Brief Heritage Black |
| SIZE / VOLUME | Backpack Brief. 12.5"w x 19"h x 5"d c.i. (1,188 c.i. approx volume),, Backpack Luggage. 14.5"w x 21"h x 7"d (2,132 c.i. approx volume). |
| WEIGHT | Backpack Brief. 3.45 lbs., Backpack Luggage. 4.1 lbs. |
| POCKETS | Exterior slip with zip and organizing panel, interior padded sleeve with zip, exterior slip for shoulder straps |
| CLOSURE | Heavy Duty #10 Zipper with extra wide zip opening |
| SHOULDER STRAPS | Stowable contoured padded shoulder straps with daisy chain attachment points, additional shoulder strap available but not included |
| HANDLES | 1.5" cotton web handles with leather handle keeper |
| LASH / ATTACHMENT POINTS | 6 bridle leather lash squares (2 on left, right and bottom), Interior XP snaps, 1" cotton web daisy chain, D-rings for shoulder strap (strap sold separately) |
| BASE | Canvas Double bottom |
| MATERIALS | 18 oz. Waxed canvas on body, 10.10oz waxed canvas on padded sleeve, #9 and #10 Coil Zippers, Solid brass d-rings, sliders, clips, and snaps |