| | |
| --- | --- |
| | The Frost River Hudson Bay Northwoods Hatchet is made 100%, from steel to wood, in the USA. Emblazoned with Henry the Frost River Caribou on the handle and fixed with the Frost River Bridle Axe Sheath, this is a capable belt hatchet that packs a punch without packing the extra weight. Ships with the proud Frost River laser engraving on the handle, a handy manual from Council Tool detailing axe care and history and our premium Boreal Axe Sheath, hand-built from harness leather, complete with hand-pound harness rivets and a solid brass snap for a durable, secure fit to protect your edge, the things you carry it in, and yourself! |
FEATURES
- Materials: US Premium 5160 steel, US Hickory handle, premium bridle leather sheath with solid Brass hand-pounded rivets.
- Hatchet head is guaranteed to last a lifetime through Council Tool.
- Forged from 5160 grade alloy steel. The "Council" makers mark is displayed on one side of the head, and the other is proudly marked "USA".- Bit is heat treated and quenched approximately 1″ inch from the cutting edge, then tempered for maximum edge holding and toughness. Final hardness Rc 52-56.- Handle is made of grade "A" American hickory and its traditional pattern embodies the heirloom quality of axes from times gone by.- Forged axe head is hung in a traditional manner using a softwood wedge along with a steel wedge for added security.- Axe head is coated with light oil to prevent rusting and to showcase the exceptional Council Tool craftsmanship. A Linseed oil coating is applied to protect the handle.
SPECIFICATIONS
- Dimensions: 14" Total length
- Weight: 1.65 lbs. (including sheath)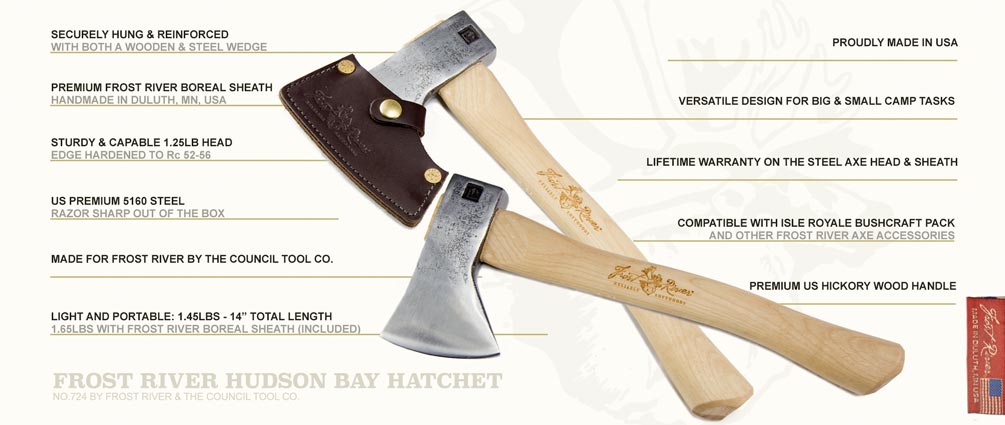 FROST RIVER HUDSON BAY HATCHET
The small form factor of the Hudson Bay Northwoods Hatchet allows better portability in a pack like our Isle Royale Jr. or Mini or in a compact canoe camp kit. It offers a 1.25lb head of US Premium 5160 Steel to make for a great tool for cleaning limbs, splitting small wood, and general camp tasks for when a larger axe is unnecessary, or the weight is more than you'd like to carry. The folks at Council Tool have been building tools in the USA to get the job done since 1886. Like our Wood Craft axes, this Hudson Bay Hatchet is built right, 100% in the USA and offers a winning combination of portability and usability. 130 years of American axe crafting experience go into the all the tools they build. These are sharp right out of the box, made of US premium 5160 steel and US premium Hickory handles and pair great with one of our Sharpening Pucks for general upkeep and field sharpening. Relative to other patterns, the Hudson Bay has a very short eye length. This reduces the contact area between the head and handle, which can lead to looseness. Using Council's new and innovative design, they pierce the eye with a special punch forming ribs horizontally and vertically inside the eye. This creates more contact area and bite between the head to handle joint. The result? A stronger and more durable tool. Lifetime warranty from Council Tool on the steel axe heads. All are branded with Frost River logo on the premium hickory handle. Ships with a Frost River handmade harness leather sheath. Keep the Hudson Bay Northwoods Hatchet, and other edged tools, sharp with our Arctic Fox Sharpening Puck, and haul it with our Buckskin Drawstring Pouch or Canvas Belt Pouch, all made in the USA. Utility with just the right heft, an elegant tool. Note: When sheathing your Northwoods Hatchet, place it heel (bottom corner) first into the sheath, and seat the heel, before sliding the toe (top corner) of the axe into the sheath. Secure using the brass snap. Reverse to remove, and always be sure to keep fingers clear of the edge.